Promotion of housing rights awareness in Uganda.
Promotion of housing rights awareness in Uganda.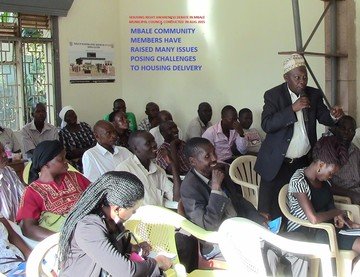 name
Promotion of housing rights awareness in Uganda.
field of work
Education / Communications, Private Sector, Policy and Law
start date
January 2, 2015
end date
October 7, 2020
project initiator
country
Uganda
description
Housing is a basic and fundamental human Right. Housing has been universally accepted as one of the three essential human needs besides food and clothing. The right to adequate housing is also considered a core human right under the Universal Bill of Human Rights (1967) to which the Government of Uganda is a signatory. The 1995 constitution (Social and Economic Objective XIV) states that the State shall endeavor to fulfill fundamental rights of all Ugandans … and … ensure that: - all Ugandans enjoy rights and opportunities and access to education, health services, clean and safe water, work, decent shelter, adequate clothing, food security and pension and retirement benefits. With the recent Launch of the National Housing Policy, the future of housing delivery and growth may be in the offing. FOUNDATION FOR RURAL HOUSING (FHSE-UGANDA) as a stakeholder in the housing sector exists to promote initiatives that will lead to housing delivery as well as promotion of housing rights in Uganda. This project is ongoing and seeking funds to continue in the promotion of Housing rights in Uganda by educating the citizens about their rights to housing as well as educating stake holders on their roles in housing delivery.
we are looking for
financial support, material support, cooperation, publicity/visibility, Expertise in this initiative is open to stake holders.
link
video link
https://www.facebook.com/Foundation-for-Rural-Housing-FHSE-UGANDA-240838215946239
social media