Rowing against Nuclear Energy in Blacksea. Power to the People!
Rowing against Nuclear Energy in Blacksea. Power to the People!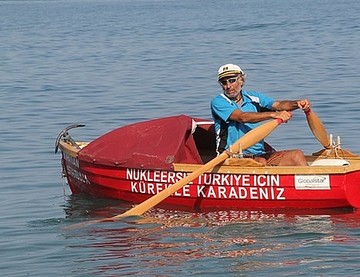 name
Rowing against Nuclear Energy in Blacksea. Power to the People!
field of work
General interest in environmental issues, Biodiversity / Nature Conservation, Sustainable Energy
start date
January 8, 2014
end date
November 8, 2014
project initiator
country
Turkey
description
Green Thought Association and its antinuclear branch Nukleersiz run a campaign to raise awareness against nuclear power plants, in2014. In Turkey there have been 2 npp projects for last 10 years and one of them have been planned to be established in a Blacksea city Sinop. But Blacksea people has a memory of Chernobyl.Some say there has been cancer patient in every home in Blacksea. So in order to make people think about the npp threat we tried to remind Chernobyl effects to the people in the region. An amateur rower, antinuclear activist rowed a boat for 1000kilometres by starting from the East of Black sea, Hopa city to Istanbul in the west on himself. Our motto we chose for him was "Power to the people!" which means not governement not to npps not to companies not to money but to life. All journey took 3 months. During 3 months almost every 2 days I wrote article(in total 14 articles) about his journey at the internet nespaper that I have still been writing for including his experience while he has been approaching to the next stop. At each stop we communicated with local people, environment organisations and activists to have support for him, to meet him at his next stop since he would read our press letter(during 3 months he read same press letter arranged for each city) and reflected our concerns about nuclear plans, about Chernobyl effects and environmental problems. Our target was to catch public attention by diasordinary activity, we wanted people to talk about it and it happened. Everyone in the Black sea talked about this crazy project and of course about nuclear : ) Altough TVs, media step back in making antinuclear news, had to mention about the man who was rowing alone in Crazy Black sea and about his story . Campaign ended in Istanbul, Ortaköy we welcome him with huge groups ,public concert. So as idea owner I think we succeeded, we had people talk about nuclear for more than 3 months . Some say that campaign was one of the best campaigns in Turkey.
social media